Relieving sleep discomforts in pregnancy
There are several discomforts that come with pregnancy such as heartburn, backache and discomforts with sleeping. Sleeping becomes more uncomfortable when the bump grows bigger, breathing becomes a little bit more difficult and finding a comfortable sleeping position is of great concern to any preggo. Adequate sleep is quite essential during pregnancy, I came across something that can relieve these discomforts.  It is called a pregnancy pillow some call it body pillow. Pregnancy pillows are quite wonderful as they give optimal comfort. However, choosing the right pregnancy pillow is quite important .
Choosing a good pregnancy pillow is dependent on your height and the purpose for which it would be used. These pillows also help to relieve backache and can be used after pregnancy as a breastfeeding pillow.
There are four basic types of pregnancy pillows. The C-shaped , J-shaped, U-shaped and the wedge shaped pillows. In choosing your pillow the discomfort you want to relieve is of utmost importance , if you have backaches  the C-shaped pillow can be used as it provides comfort to the back , it supports the head and shoulders at the top and support for the legs at the bottom .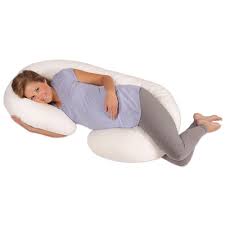 The U-shaped pillow is quite my favorite as it provides support to the back and the bump at the same time, it elevates the upper body which helps to make breathing easier during sleep.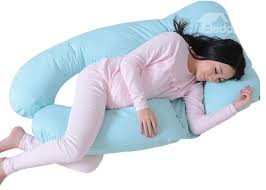 The J-shaped pillow provides comfort to the back and the head
The wedge shaped pillow is usually used in conjunction with other pillows as additional support. The beauty of these pillows is that you can use them however you like.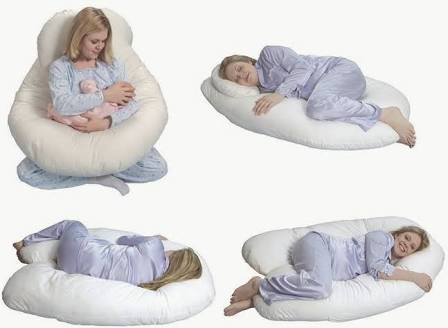 You might not see the relevance of the pillows in your first trimester but in your  third trimester you would be glad you got one. You should consider getting one today.