PELVIC FLOOR EXERCISES(KEGEL EXERCISES)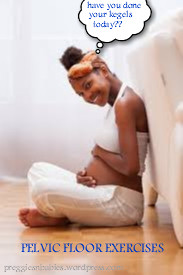 Pelvic floor exercise is an exercise done to help in strengthening the pelvic floor muscles. The pelvic floor muscles are muscles  located between your legs, and run from your pubic bone at the front to the base of your spine and at the back. They are sling shaped and hold the pelvic organs (uterus, bladder, vagina, bowel) in place. The pelvic floor muscles support the bladder and bowel and gives you control when you urinate.
WHY YOU SHOULD KEEP THE PELVIC FLOOR MUSCLES STRONG
As you get older the pelvic muscles get weaker, women who have had children may also have weaker pelvic muscles. Weak pelvic floor muscles can cause problems such as
Urinary incontinence (inability to control the flow of urine)
Reduced sensitivity to sex.
There is also a risk of pelvic organ prolapse, where one or more of the pelvic organs bulge into the vagina.
It also causes stress incontinence, where you leak urine when you do activities such as when you cough, sneeze or laugh.
HOW TO DO PELVIC FLOOR EXERCISE
First you need to feel your pelvic floor muscles, imagine you want to stop the flow of your urine, ensure you are not holding your breathe, tightening your stomach, buttock or thigh muscles at the same time.
Sit in a comfortable position.
Now that you have identified the muscles, hold the muscles for a maximum of 10 seconds.
Release the contracted muscles.
Repeat these 15 times to complete a single set.
You can perform kegel exercises daily ideally about 3 times a day. It is however not recommended to regularly stop your flow of urine midstream because it can harmful to the bladder.
PREGNANCY
If you are pregnant already or planning to get pregnant you can start doing pelvic floor exercises straight away it would reduce your risk of experiencing incontinence after having your baby. You should continue doing the exercise even when you notice them to start working.
BENEFITS
Reduces the risk for urinary incontinence during and after pregnancy.
Increases sensitivity to sex.
Reduces the risk for stress incontinence.
sources
picture: www.lifespa.com
NHS  choices.pelvic muscle exercises. www.nhs.uk/pages/1063.aspx?cateforyd=52