Six Things To Consider When Making A Choice Of Birth Place.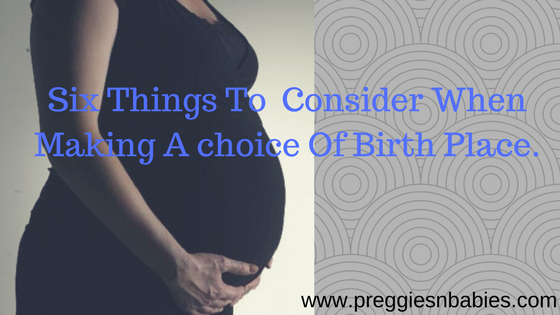 I had the opportunity to discuss with a couple of mothers and pregnant women and from my observations, many women don't plan a choice of birth place and this is something that isn't quite common also in Nigeria.
Planning where to give birth goes a long way in increasing your chances of having a wonderful birth experience. So I would be sharing tips of my own to help decide where to give birth. Some of you might be wondering is it compulsory?, why can't I just use any hospital I can afford or one close to my house. Nothing wrong in going with that plan, but you need to consider some other things.
I have heard of stories where women have gone to hospitals to give birth and at the point of labor and delivery, they realize the hospital don't have the skilled personnel or necessary equipment.
These tips would guide in deciding where you want to give birth in other to have a wonderful birth experience. If these guidelines fit with that hospital that you want to use then you are good to go, if you have at least 5 out of 7, then it could work too.
1)  ASK AROUND.
Always try to ask around before you start your ANC. Ask friends that have given birth to make recommendatios for you. Ask if the hospital has qualified staffs, when I say qualified staffs I mean properly trained midwives and doctors that are registered and licensed. If you don't know where to start with asking, "Do I want to give birth in a government or private hospital?" from here you can work your way up to deciding where you want to give birth.
2) DO THEY OFFER ANTENATAL CLASSES AND HOW USEFUL IS THE ANTENATAL CLASS?
Any hospital that doesn't offer ANC is a red flag for you. If they don't offer ANC, they cannot provide the proper care you need during labour. ANC is a very important part of pregnancy and birth, some do not give adequate ANC, which is why I would encourage you to subscribe to the blog if you haven't so you don't miss any blog post.
We are here to answer all your questions and if you don't find answers to your question send a mail to preggiesnbabies@gmail.com
3) KNOW HOW MUCH DELIVERY AND ANTENATAL CARE COSTS.
You should know how much the place you are considering, charge for ANC. You don't want to break your bank account cause you are having a baby, you still need to care for the baby when he/she comes. So have your budget and try to work with your budget.
4) DO THEY HAVE QUALIFIED PERSONNEL?
Well, I mentioned this earlier so you would know this is very important. You can find out by asking where they trained and if they are truly qualified you should hear them mention teaching hospitals where they trained. Only teaching hospitals train health personnels. You need a qualified midwife or doctor to be present during your labor and delivery. They always know what to do when things go wrong.
5) DO THEY HAVE PROPER FACILITIES?
Ask from women that have used the facilities before, if the facilities are good or not. This would let you know if you are convenient with what they have.
6) HOW OFTEN DO WOMEN DIE DUE TO PREGNANCY IN THE HOSPITAL?
This might sound scary, but you need to know. If women always die or end up with one complication or the other from using the hospital that is a red flag.
I hope this helps you.
Sharing excites me, please be nice and share 🙂
share .